A Beautiful Fitted Dressing Room
manager
Fitted Dressing Room in London
Discover more about our latest fitted dressing room in London.
We were approached by a V.I.P client to design and install a beautiful fitted dressing room in London. The design brief was straight forward enough. It was to look stunning, create a beautiful room to showcase the clients collection of designer labels and fulfil the clients storage needs.
The initial design visit was carried out with the V.I.P client at the brief was agreed upon a few different finishes were picked and this enabled us to begin the design process. We set about drawing up visuals and C.A.D images to show exactly what could be achieved.
After some minor changes were made to the C.A.D plans our client agreed upon the image below: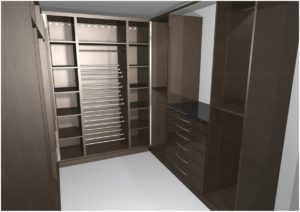 The finish was decided upon as a Dark Olive Gloss. The materials were order and the furniture was manufactured. The set of drawers which sat between the two wardrobes was required to have a glass panel worktop to enable the client to display jewellery and sunglasses. The toughened glass was inlayed into the material and the drawer dividers were ordered and I think you can agree that the pictures below do make this piece of furniture!
The finished fitted dressing room in London really does look amazing and completely fulfilled the design brief. The final room created plenty of storage space and truly is a bespoke fitted dressing room. The Gloss Dark Olive woodgrain visually creatures a stunning finish which stands out from the crowd.
If you have the space or are thinking of turning a spare room in to a walk in wardrobe or fitted dressing room then contact us to arrange a free design visit. Take a look at our completed room below or on our Gallery page.

Thank you for taking the time to read this article. Should you have any questions or wish to book a free design visit contact us here.
Take care and we hope to hear from you soon