Fitted Wardrobes In Brentwood with a Scandinavian Theme
manager
Fitted Wardrobes In Brentwood
We recently installed these Fitted Wardrobes In Brentwood for a client who was looking for a Scandinavian style fitted wardrobe.
After this client initially contacted us to arrange a free home design visit and consultation to get the ball rolling on their Fitted Wardrobes In Brentwood, they had a good idea of position and layout for the proposed furniture.
We went away and began designing the furniture and creating designs and layout that would maxi use the space and work within the room. This particular bedroom was located in the second story of the property in a loft conversion.  The ceiling height was low at under 2200mm. Fortunately this still allowed for double hanging. Using our bespoke sizes we were able extract every inch of available space from the bedroom in question.
Our plans and accepted design.
Once we had the measurements and our clients design brief we set about designing the Fitted Wardrobes In Brentwood. We sent across our designs to the client in Brentwood and the accepted our plans. Take a look at our visuals that we sent to our client: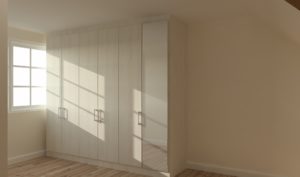 Both designs show exactly how the installation will look upon completion. We arranged a survey visit to finalise measurements and ensure the client was happy with the required finish. The client decided upon our stunning Scandinavian Pine for their Fitted Wardrobes In Brentwood using one door as a full mirror.
We agreed upon installation schedules and organised materials.
The installation process.
The installation date for the Fitted Wardrobes In Brentwood was soon upon us and we began the installation. The room was ready for us to begin the installation as you can see below: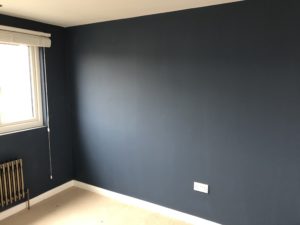 This is the final fi shed installation with a few shoots of the interior. What do you think?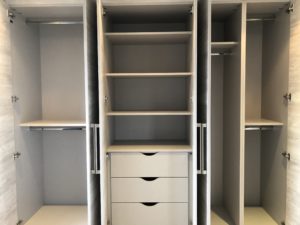 The client was thrilled with their new installation and we couldn't be more happy. The finished installation of these Fitted Wardrobes In Brentwood are beautiful.
For everything fitted wardrobe related check out our website and our online brochure for our full range of finishes and designs. For fitted wardrobe inspiration keep an eye on our Pinterest page and for the day to day goings on follow us on Facebook.
For now, we thank you for taking the time to read this latest blog post and hope to catch up with you all soon.
The Simply Fitted Wardrobes Team.
P.S. Keep an eye on ur website as we will be opening our first showroom for fitted wardrobes in Essex within the month!