Fitted Wardrobes In Suffolk
manager
Fitted Wardrobes in Suffolk
Simply Fitted Wardrobes in Suffolk
We have recently installed a stunning fitted wardrobes in Suffolk.
Our client approached us recently with a bedroom they were looking at turning in to a dressing room by creating a wall of Fitted Wardrobes in Suffolk. We arranged a free design appointment to meet the client and discuss their needs and style choices.
During the meeting with the client it was clear to us that the design they particularly liked was one of a modern, statement style in a bold colour. The interior layout requirements were decided upon using our brochure as a guide to interior layout options.
We showed our customer the samples for a Blyton range which is what stood out most to the client. Upon seeing the samples instantly the client picked our Onyx finish. This paired with our Grey Linen interior finish makes for a unique contrasting finish similar to that of a boutique style hotel.
We produced a stunning visual for this client for these Fitted Wardrobes in Suffolk. Check out these visuals below:
These were the visuals we produced for the client and they were thrilled with how they looked. Once the client had agreed that this particular design was exactly what they wanted everything was signed off and an installation date was agreed.
The installation date came and everything on the installation went well. Take a look at how the space looked prior to our installation:
This image below shows how the interior layout looked upon in stallion, pretty close to our initial visuals don't you think?
This image below shows the finished installation of these Fitted Wardrobes in Suffolk: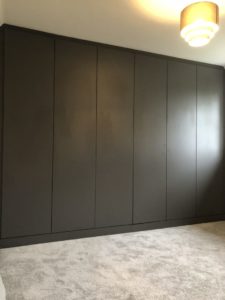 The client decided to go with a clean finish and we used our Push to open mechanisms to achieve the desired effect.
We hope you liked this blog post and if there is any kind of fitted furniture project you are planning please get in touch for any help or advice. For more fitted wardrobe inspiration take a look at our Pinterest page or follow us on all social media channels including our facebook page.
For now we wish you all the best.
Simply Fitted Wardrobes Team.