Interior Design Trends for 2021
manager
Interior Design Trends for 2021.
We have put together some of our Favourite Interior Design Trends we expect to be hugely popular this year.
Grounded Earthy Shades
Our first interior design trends for 2021 starts with a noticeable shift away from the light grey tones when people are picking there fitted wardrobe finishes and they are choosing darker shades of greys such as the Dust, Lava or the Onyx. Both of which tie in perfectly with the Dulux colour of the year – Brave Ground. Theses such colours offer a much more bolder palette which compliments contemporary and traditional designs well.
Get in to Cottagecore
What in the world is Cottagecore? In essence it involves soft pastel colours, wholesome textures based around rural life featuring heavily on quaint cottage interiors. We have noticed a massive increase in traditional shaker style fitted wardrobes in particular our Rockingham range of fitted wardrobes. The range offers a great choice of finishes which not only lend themselves perfectly to the cottagecore styles but the traditional shaker door instantly give the rural cottage feel. Our Rockingham range is going to be even more popular this year we believe with this Interior Design Trends.
Wall Panelling
Wall panelling has been a huge trend for 2020 and its is showing no signs of slowing down for 2021. Its a great way to bring a traditionally rustic feel to any space typically featuring bold colours and sharp lines. Our Silverstone range of fitted wardrobes are perfect when looking to create this sure to be interior design trends. This range of fitted wardrobes are the most luxurious style of shaker wardrobes featuring a painted finish anybody could wish for, you simply cannot find a higher quality fitted wardrobe.
Shabby Chic but not as you know it
Shabby Chic has been hugely popular when it comes to interior design trends but the look has massively change and now plays heavy on the Chic element not so much on the shabby. Now more than ever this light airy style lends itself to a simpler style of clean lines, soft neutral tones and light flooded spaces. Our Blyton Range of fitted wardrobes is as popular as ever for this chic style and its easy to see why with its palette of matte finishes and simple design styles it works perfectly here.
Japandi
Japandi is the combination of two interior design trends, Japanese minimalism and Scandinavian design. Japandi have seen a big increase being used by interior designers throughout 2020 but we are starting to see it being use much more widely throughout the end of 2020 and see it becoming huge in 2021. The finishes in both our Mallory and Croft ranges work fantastically in this Japandi interior design trend. The Mallory range in particular which features heavily textured finishes is perfect in creating a focal point in a minimalistic style.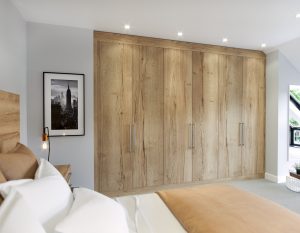 These trends above are what we believe to have an impact in the interior design trends for 2021. We are excited to see what 2021 brings with fashion and design. We can't wait to meet more of you and catch up soon.
The Simply Fitted Team
We take a look at what the next big interior design trends for 2021. We discuss what each trend means and how our fitted wardrobes can help.