Traditional Fitted Wardrobes taken from our Rockingham Range
manager
Looking for Traditional Fitted Wardrobes?
If you are starting to think about purchasing Traditional Fitted Wardrobes then this article is for you.
We recently were approached by a client to help design and install a fitted wardrobe. The brief was a simple one. Create some Traditional Fitted Wardrobes to help the clients utilise all of the available space but also include a tv space which would be integrated in to the fitted wardrobes.
We attended the design appointment at the clients property to go through their initial requirements and get an idea of storage space they would need. After a brief discuss it was clear to see that the majority of the space would inside the Traditional Fitted Wardrobes would need to be hanging space, a mixture of double hanging which in our brochure is upgrade 1 as well as the standard long hanging sections. Shoe storage was also a requirement. The clients really wanted to divide the Traditional Fitted Wardrobes in to a "his & hers" sides. The clients had already seen our brochure online and chosen the Rockingham range for their fitted wardrobes.
The bedroom before the installation of our Rockingham range Traditional Fitted Wardrobes.
The room had a few interesting features that we had to work with. Firstly due to the chalet style sloped ceilings in this bedroom we had this narrow angled ceiling "beam" to work around. The second issue here was the central tv section that was required was unfortunately as far from the power / Ariel points as possible.
Fortunately we had the depth to still utilise full depth robes and hide the "beam" behind the clean straight lines that we planned to create using our Rockingham Range of fitted wardrobes.
Our Design proposal for our clients.
Our team of designers set about working on the space in our state of the art design software. The term always try to keep the desired space as symmetrical as possible as this helps to create a sense of space and a clean uninterrupted finish. Working closely with the clients a few designs were sent back and forth and interior layouts changed to achieve everything the clients wanted from their dream Traditional Fitted Wardrobes. Here is the final 3D visuals that were finalised upon:
The Traditional Fitted Wardrobes installation.
The date was set and booked in for the installation. Our Team of fitters arrived on time first thing in the morning and set about sheeting up the room and preparing for installation. Prior to all installations our teams check measurements and clean the area they are to work in ensuring everything is perfect before hand which helps to achieve the perfect end result. This particular installation of these Traditional Fitted Wardrobes is no different. The team completed the entire installation in a day and a half. Leaving our client absolutely over the moon with the final finish of these gorgeous Traditional Fitted Wardrobes.
The finished Traditional Fitted Wardrobes.
Take a look at the final finished Traditional Fitted Wardrobes. A beautiful light, airy feel had been achieved with this installation. It was exactly what the client had wanted and we managed to achieve their dream for them faster than our competitors, under the previous quotes our competitors had given and a lot less stressful than previous experiences had seemed.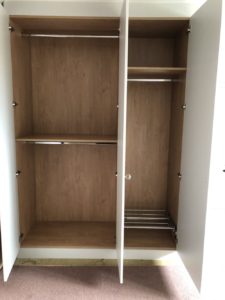 We were really pleased for our clients who managed to achieve their exact requirements. We were thrilled to help them with this installation of Traditional Fitted Wardrobes. We love working with clients and take our enjoyment out off seeing the delight on our customers faces. If you are thin king of getting some fitted wardrobes please take a look at our fitted wardrobe gallery along with our Pinterest page. We are on all the social media platforms and follow us on facebook to keep up to date with our day to day going on.
For now we would like to say thanks for reading and we hoper to hear from you soon.
The Simply Fitted Wardrobes Team.
room furniture.