Emerging Bedroom Trends for 2018
manager
The Emerging Bedroom Trends for 2018.
In this post we explore the latest and emerging bedroom trends for 2018.
Now we are well and truly settled in to 2018 and January has been left behind we have started to see the new bedroom trends for 2018 starting to emerge. Light greys and cashmeres are still heavily present in the bedroom trends of 2018 however there is an increasing popularity in the stylish glossy finishes with handless push to open doors which give off that ultra modern minimalist feel like the bedroom below:
With more and more customers deciding to venture into new bedrooms trends such as Black Gloss with the ever popular Rose Gold finishing touches the 2018 seems set for a mixture of modern and clean styles mixed with the finer, more delicate final touches.
The beautiful hand made 5 piece shaker doors we create here at Simply Fitted Wardrobes are increasing week upon week with customers choosing this timeless classic door in the beautiful dove grey finish as seen here:
Again with these finishes we are noticing that customers are choosing to finish the doors and fitted furniture with lavish handles to complete their fitted bedroom trends.
As well as expanding our range of door and frontal styles and finishes at Simply Fitted Wardrobes for the bedroom trends of 2018 we are making additions to our fitted wardrobe interiors. Our signature Grey Oak is still the most popular wardrobe interior finish we are now introducing the matt cashmere and matt stone grey in to our standard interior options, but as I am sure most will agree our Grey Oak interiors are still beautiful as you can see below: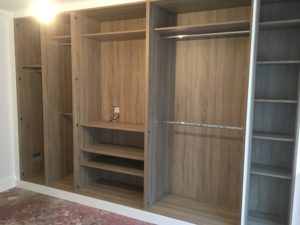 As we draw to a close we would like to conclude with our final thoughts on bedroom trends for 2018. We predict that the ever beautiful, more traditional bedroom trends such as shaker doors, matt neutral colours such as light greys and cashmere will remain through 2018 but will see an increase in stylish, feature finishing touches such as the larger door knobs or the brighter Brass or Rose Gold handles. To counter the more traditional styles the rise in minimalist high gloss finishes outside of the normal white or grey will increase with much bolder more intense choices being made to complete the bedroom trends for 2018.
As always watch out for our blog post and keep an eye on our Pinterest page to keep up to date and see what we haver been up to at Simply Fitted Wardrobes.