The best Built in Wardrobes
manager
What makes the best built in wardrobes?
We truly believe our built in wardrobes are the best available.
At Simply Fitted Wardrobes we are constantly striving to spread awareness to everyone looking for fitted wardrobes specifically built in wardrobes. The reason we try so hard to reach everybody looking for built in wardrobes is because we offer the highest quality fitted wardrobes on the market.
What lies at the core of Simply Fitted Wardrobes is that we believe the term "built in wardrobes" should mean just that, built in. Many companies aren't able to offer a truly bespoke built in wardrobes service. Many only use strict depth wardrobes and others only use a single wardrobe door height.
The issues lie in the huge amount of variables in peoples properties. No two properties are the same so we don't understand why companies believe in a one size fits all approach. Its typical of bedrooms to incorporate a chimney breast within the room and because there doesn't tend to be much space along these walls in particular people tend to look to this space for built in wardrobes. However chimney breasts usually protrude 250mm or so in to the room meaning the two alcoves either side are perfect for fitted wardrobes in alcoves although the chimney breast section gets overlooked. We like to think that this wasted space can too be used for fitted wardrobes by creating a reduced depth fitted wardrobes to sit infant of the chimney breast and create useful shelf space whilst achieving a flush front with all doors being inline. Check out what we mean below: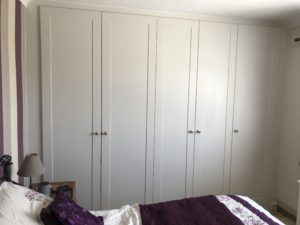 Behind these middle doors is a chimney breast but from the front the nice flush appearance creates a nice flush finish. We believe that this is truly what constitutes the definition of built in wardrobes. Built to suit your room, Built to suit your requirements, Built to suit your tastes. These are truly built in wardrobes.
If you are looking for more wardrobes inspiration visit our gallery page or our Pinterest site.
Please get in touch with any enquiries.
From all at Simply Fitted Wardrobes, cheers.