Our recent Celebrity Fitted Bedroom
manager
Check out our latest Fitted Bedroom.
We were recently approached by a celebrity client who was looking for a specific style of Fitted Bedroom. The client wanted a sleek, stylish and incorporate a mirror!
We arranged a design appointment at the clients new property to get an understanding of what was required and how the room layout was going to work best. During the visit this particular client wanted a large amount of hanging space with a shelving area for their shoes and trainers. The other things this client wanted was mirrored doors to help with the light in the room as well as helping when getting ready to go out for the day ahead.
The clients talked through the colour schemes they had in mind and we advised on the type of finishes we thought would work well in the space and achieve the desired look. Once we produced the samples the client immediately spotted our stylish Pewter finish taken from our Blyton range which can be discovered in our online brochure. This particular finish lends itself extremely well with fully length mirrored doors and sleek handles. The interior finish on our Blyton Range s the trendy grey linen which has a textured feel to it.
Once the room had been measured and surveyed we put together some stunning visuals and an accurately detailed plans.
Take a look at the visuals below-
The client who wanted this Fitted Bedroom loved the designs and styles we had put together. We arranged the contracts and the client made the deposit.
We arranged the materials and set about creating this sleek Fitted Bedroom and organised the installation date with the client.
The date came around for the installation of this Fitted Bedroom. The room was prepared and installation process went without a single hiccup. We managed to complete this particular installation in a single day which helped with this celebrity clients busy schedule.
Take a look a the before and after pictures below-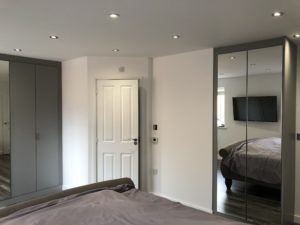 The client was over the moon with this installation and couldn't wait to use them. This particular celebrity client was so happy with the way the entire process went and has already recommended us to their friends and family which in our opinion there can be no greater praise.
Remember if you want to keep up to date with our work follow us on our facebook page and keep an eye on our Pinterest page for Fitted Bedroom inspiration.
Until next time
The Simply Fitted Wardrobes Team.