Check out these Oak Fitted Wardrobes
manager
Are you looking for Oak Fitted Wardrobes?
Check out these beautiful Oak Fitted Wardrobes.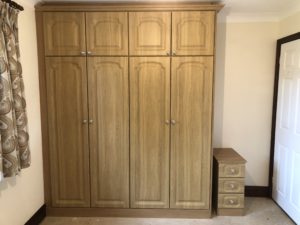 In this blog post you can discover these beautifully traditional Oak Fitted Wardrobes. Our client in Essex wanted something in keeping with their traditional tastes and existing decor.
Once the free design appointment was arranged and we had meet the client a design was agreed upon and we set about creating a realistic visual and detailed plan for the client. This was then presented to the client to ensure they were happy with the outcome and understood fully the processes involved with the installation. Once the client had agreed with the plan a final survey visit was organised at which measurements were double checked and the clients were shown the samples to ensure they were one hundred satisfied before making any kind of commitment.
Once the client was satisfied and the deposit was made, the materials were ordered. The day of the installation arrived and the room was emptied out ready for the installation to take place. The entire installation process went smoothly and without hiccup.
The installation included smaller top boxes complete with open storage space to maximise the ceiling height and create some much need larger storage space. The Oak Fitted Wardrobes underneath compromised of long hanging space and adjustable shelving to enable the client to store plenty of bedding and towels etc.
The stunning Oak Fitted Wardrobes were complimented by our popular Rugby Handles taken from our brochure. The entire Oak Fitted Wardrobes that were installed on this job were chosen from our online brochure which can be found here.
See the finished installation for these Oak Fitted Wardrobes below: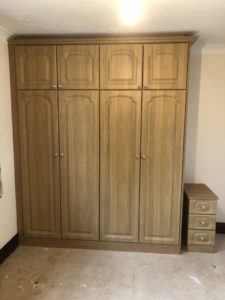 I think you can all agree that these beautiful fitted wardrobes are truly a lovely addition to any house with a more traditional feel. To discover more of what we have been up to lately follow our Facebook page and our Pinterest page.
Thats all from the Simply Fitted Team for now. All the best and if we can help or offer any advice please let us know.