Making the most of the space in a loft conversion – fitted loft bedrooms
manager
Fitted Loft Bedrooms
A loft conversion is an excellent way of creating extra space within an existing property. The trouble with any loft conversion or extension is what are the option when it comes to storage. The majority of standard furniture available to buy won't fit under the angles or will end up sticking out in to the room intruding on all the extra space that has just been created. This was an issue for our client in Essex.
After completing a loft loft conversion they were looking for Fitted loft bedrooms and arranged a free design visit with one of our designers. Upon surveying the room and discussing with the client to establish exactly what was needed a plan was created and once the client was happy a date was set for the installation.
This particular loft extension had a nice lot of straight flat ceiling. This enabled the use of double hanging wardrobes on one side of the bedroom.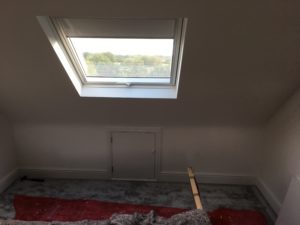 This is was the room prior to the installation. All carpets were protected and the room was ready to Ben installed. This particular client wanted all the furniture to be fitted on top of their new carpet. The carcass were installed on the first day of installation. The next day up went the low level angled units and the room was starting to take shape. With enough room on the sloped ceiling for single hanging and storage space on the floor for shoes this gave the maximum room and completely fulfilled the clients brief. Without intruding into the new room this Fitted loft bedrooms really created the sleek stylish finish whilst enabling the new loft conversion to be used to the maximium. These are the finished results.
. 
Its clear to to see this clients room I see now a fresh clean and stylish fitted loft bedrooms. If you have a room with awkward angles and want to make the most out of them get in touch to arrange a free design visit with one of our friendly designers to see what you could achieve. To see anymore of our portfolio click here.