Fitted Dressing Room and Fitted Wardrobes in Weybridge | Surrey
manager
Discover our Fitted Wardrobes in Weybridge | Surrey.
Read all about our fitted wardrobes in Weybridge in this blog post.
We recently were commissioned on a dressing room project in Weybridge, Surrey. The client was using an interior designer on this particular installation. We work along side interior designers regularly and on this particular occasion we were working along side a designer we know very well. The design brief consisted of a traditional style wardrobe to match with the decor the designer had chosen to theme the bedroom.
The designer and client both chose our Rockingham Range from the Heritage collection. The ever popular Dove Grey was picked to create the furniture which was to include a seated dressing table area along with a bespoke height floor to ceiling fitted wardrobe in Weybridge.
The ceiling height in this property was nice and tall at just under two and a half meters. We don't like standard sizes at Simply Fitted Wardrobes in Weybridge | Surrey so we built our fitted wardrobes to a nice high two thousand four hundred millimetres. Creating plenty of space and most importantly utilising all available space.
We have a brief discussion with the client and the designer as to what kind of interior layouts were required on the fitted wardrobes and we set about putting together some of our visual designs.
This is what the Simply Fitted Wardrobes in Weybridge | Surrey design team came up with: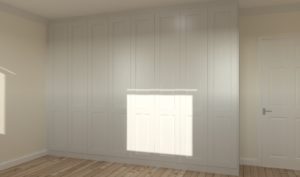 After the designer and client both saw the visuals they were more than happy to proceed with the installation. We set about creating the furniture and set an installation date as the customers spend a lot of time abroad so it was crucial for us to stick to the agreed dates.
The installation took two days to complete and really went in to the room perfectly. The space was used to its full potential and the dressing room area created plenty of drawer space with lots of work top storage.
The interior designer completed the room with some bespoke hand made handles and they really made a statement and went superbly with the Rockingham Range. The designer finished the room and dressed the fitted wardrobes in Weybridge | Surrey.
Heres a few shots of the finished room:
Discover more of our latest news here and find all our ranges in our online brochure here. To find inspiration and keep up to date with all our social media goings on follow us on Pinterest as well as Facebook.
Until next time all the best from the Simply Fitted Team.