Mirrored Wardrobe
manager
Mirrored Wardrobe
Looking for a mirrored wardrobe? When it comes to designing a bedroom and choosing particular furniture layouts and designs its always a great time to start thinking about mirrors and feature points within the room. If the room has a darker area then this is an obvious place to have a mirrored furniture in particular a mirrored wardrobe.
With all of our fitted wardrobes we create whatever you may have in mind and each design is though out and planned to the finest of details. With may options of mirror styles and designs we can make the entire process of having a mirrored wardrobe very simple.
Simply Fitted Wardrobes range of fitted wardrobes cater for all needs and tastes with all of our furniture capable of achieving a truly perfect mirrored wardrobe. From Sliding Wardrobe Doors with either a full panel mirror or a Sliding Wardrobe Door with a mirrored central Band we can design and create whatever suits you. Check out a few of our Sliding mirrored wardrobe designs below: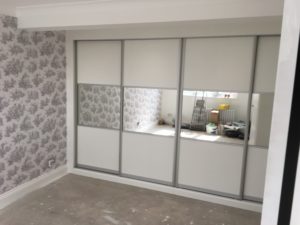 Our Range of Fitted Wardrobes using Hinged doors also allows for the use of mirrors. This is a perfect opportunity to create a feature or focal point within the bedroom. The use of a mirrored wardrobe by either having a full mirrored door or a shaker style door with a central mirror set in the panel creating a framed look the options and possibilities are whatever you would like.
Take a look at some of our fitted wardrobes using hinged doors below: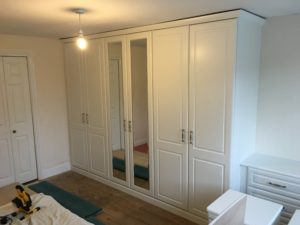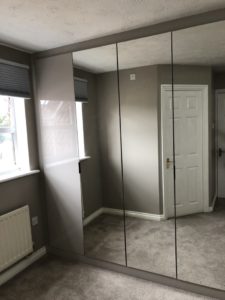 Here you can see we have lots of different mirrored wardrobe designs and styles and the designs can be made to suit whatever you would like to achieve. You can find our mirrored finishes and the different ranges in our latest online Fitted Wardrobes Brochure.
Keep an eye on all our latest goings on at our Facebook or Pinterest page.
Thats all from Simply Fitted Wardrobes for tonight. For now taker care and all the best.
]Simply Fitted Wardrobes Team.