A Fitted Wardrobe in London
manager
A Fitted Wardrobe in London
Read all about our Fitted Wardrobe in London
We were recently approached by a client looking for a fitted wardrobe in London. They had several issues that other companies who had proceeded quotations couldn't deal with. The major issue was the height of the customers ceiling at over two and a half meters it was certainly a tall ceiling to deal with. The second issue the client had was a chimney breast situated on the wall where the client wanted to include wardrobes.
Upon the initial design appointment the client had a brief for a contemporary fitted wardrobes in London. The style was to be sleek bold and contrast the very traditional feel within the property. Once we had settled upon a layout and design the client had a good look through our samples and very quickly decided upon the Blyton Collection in the Pewter finish. A popular choice of late which we have started to see a trend of clients leaning towards a darker much bolder grey than the popular dove grey of the summer.
We set about creating our 3d visuals and going through exactly what the customer would have done. Upon presenting the clients for this fitted wardrobe in London their quotation pack they immediately booked themselves in for the project to start.
The First job for us was to remove what existing wardrobes were in place. This was a very quick and simple task although a dusty one! Once the rooms was clear and cleaned up it was ready for our installation to begin.
The room was plenty spacious enough for us to work in and we managed to complete the entire installation in a single day. The Blyton pewter is such a bold colour which in this bright space really worked and the clients were thrilled with the results.
Take a look at some of the pictures of this Fitted Wardrobe in London and let us know your thoughts: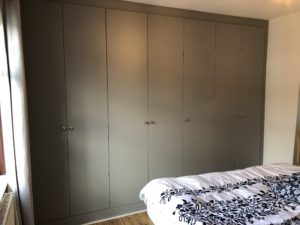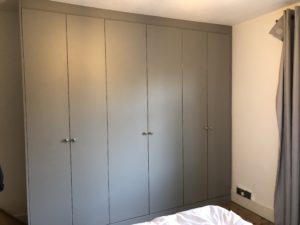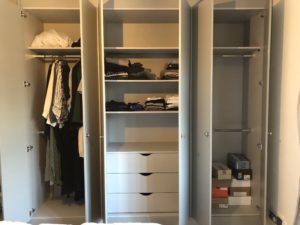 As you can see from these images the customer started using their space immediately.
To keep track of all things Simply Fitted Wardrobes follow us on Facebook and on Pinterest.
To discover all our fitted wardrobe Collections check out our Online Brochure.
For now thanks for reading
The Simply fitted Wardrobes Team